So, I don't have any sort of witty write up here because, well, there isn't anything witty or very different about this deck. It's the same Wu deck that has been jumping around for a few weeks and doing well across the board. I am confident that it is the best runner deck right now. It is relatively straightforward to play and has good match ups across a wide variety of corps. The base engine of the deck is near impossible to disrupt and you have slots to use to combat different corp strategies depending on what you expect. There were 6 Wu at this event, 4 made the cut and the other 2 were in 12th and 13th. (38 Players - 5 rounds top 8)
I wouldn't be surprised if something in this list gets a whack with the MWL stick because I honestly feel like it can handle most decks and could be tweaked to adjust for the meta.
It reliably gets 3 Rezeki out turn 1/2 Via Peace, Gamble, Stimhack, scavenge and Wu's ability. The engine set up is very robust and fast, get SMC, tear them down for Rezeki, or better yet get Rezeki and scavenge it.
Obligatory GIF now inserted: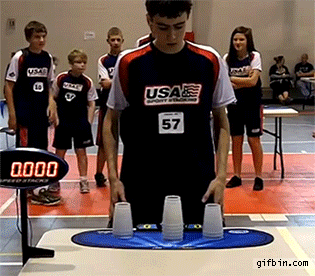 After that it uses surfer and Laamb to melt even the largest of remotes, and has plenty of shenanigans to dodge Kaguos, data ravens, help prevent multi border control server runs etc etc. You should also ways be in a position to challenge remotes and when you can use Freedom through equality and Khusyuk to go digging to close games. Given the number of 3 point agenda being used right now, Freedom is a card I would love to have a second of.
It is a passive deck, it makes a few, efficient, impactful runs whilst keeping its credit pool high via 3 a turn drip and the econ package of Kati, Beth, Gamble, Peace PAD tap, Stimhack and of course Rezeki.
So then the Tech cards for match ups – Clot, Feedback Filter, Hunting grounds and Misdirection in this case. I expect Clot and Misdirection to be in all shaper decks, Hunting grounds was there to help with Data loop decks and Data Raven decks. Feedback filter for IG Combos and Mushin decks. I never used Feedback filter on the day but was happy to have it there given the decks I saw around. I suppose I should note that compared to other Wu decks I cut 1 Akamatsu and 1 clone chip for Kati and Feedback Filter to stay at 45 cards because if this deck has any weakness is it does not have great draw 3 Diesel and that is that. I am happy with both of these changes. 3 Akamatsu is not needed, you just need to prioritise getting leprechaun out after rezeki and you are good to go. In testing I had barely used cyber cypher or Ika so clone chips were not really being used. I didn't need Ika all day and only installed Cyber cypher in 1 game, 2 clone chips was more than enough. I could see hunting grounds, feedback filter and Kati being swapped around to accommodate other decks.
I paired my runner with this:
https://netrunnerdb.com/en/decklist/56658/-just-play-the-normal-good-gagarin-york-1st-place-4-1-
I had limited expectations going into the day and had targeted making the cut. I was pretty surprised to win the thing! My route was Sweep Split Sweep, ID, ID into the cut in 5th. I didn't drop a game in the cut and a couple of the games you can see here. Gagarin Vs Wu where I just managed to sneak out a kill in a really unusual fashion and then the final game where the Shaper lock on glacier was in full effect.
Wu Vs Gagarin - Cut round 1
https://www.twitch.tv/videos/465255082?t=01h39m18s
Azmari Vs Wu - Grand Final
https://www.twitch.tv/videos/465346498?t=01h55m40s
A huge thank you to Akira for running the event! A really great day and thank you to all of my opponents, Ash, Andrew, Alice, Chris, Ben, Pauly and Ben again in the final for fantastic, high quality games against really lovely people.